UNITE AND LEAD
Through an extensive collection of tools developed in-house by our eTownz development team, we are able to provide the tools and services needed to nurture community and to provide a platform for communication and development of community assets to better enable your community to thrive.
Our experience in this area has been used to successfully launch community led initiatives that result in better local services, improved amenities and greater support for local business.
Community rejuvenation, development and sustainability are increasingly key issues of concern within both a community and policy context, not only from an Irish perspective, but also on an international basis.  Having carried out extensive work within the context of community and rural development, the issues that lie ahead are not, should communities initiate change for survival, but how do they go about doing this? eTownz are developing a holistic on-line platform that will allow communities, not only to explore the advantage and disadvantages of their community, but also to provide a clear direction of progression into the future.  eTownz is both innovative and novel, has an identifiable market within Ireland and beyond and can assist in bringing local, small or large communities into an age where the internet can play a key role in igniting community development and sustainability.
Ultimately, it is all about local people, local business and local community. The eTownz programme epitomizes what my brief as Minister for Rural Economic Development is all about, in providing the essential tools necessary for communities to improve upon and drive their own local economies, allowing them to participate in their own rejuvenation. I know first hand that there are a lot of communities out there ready and willing to fight back, they have great potential and it is important that resources are targeted to those areas. eTownz can play a pivotal role in this regard. I wish eTownz the very best for the future, their platform and suite of community development solution have promise to become key tools in the rejuvenation of towns across the country.
eTownz Community platform
eTownz brings residents, businesses, public services and clubs together in one digital place in order to share and distribute information throughout the entire community. It allows community members to co-ordinate and promote local sports, arts, training, and leisure events and Is a multi-service platform which allows businesses of all types to market and sell locally. eTownz facilitates communication and awareness within the community through regular news blogs, photo posts and social media updates, and as a platform is ideal for Trade Associations and Sports Clubs. We provide a sustainable model for the setup, training, management, promotion, implementation and future development of the eTownz system that acts as a cohesive force for the development of the community both online and offline.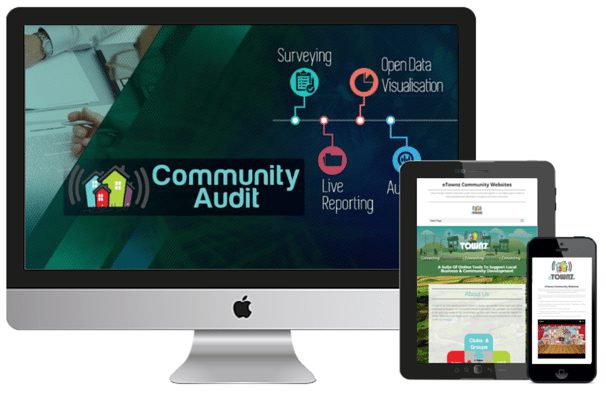 Community Development Tools
Working with Enterprise Ireland and University College Galway we have researched and developed a series of digital tools which align and support the processes of community development.
The tools contain a range of community surveys, an online reporting tool and data visualisation tools which bring the concepts of community development to life in an easy to use community report. The online community report is interactive and is designed to spur a sense of drive and purpose for community development issues among the local community.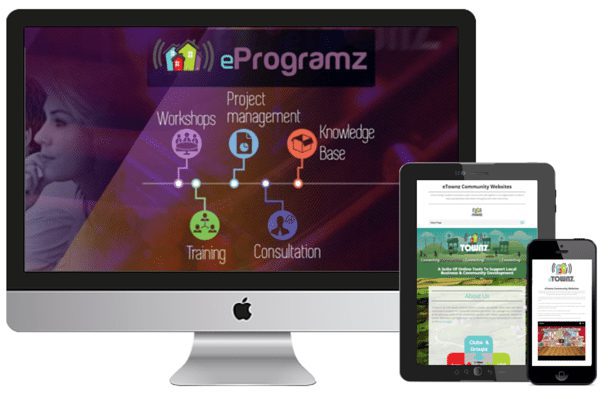 Community Development Programs and Workshops
eTownz provides clearly formatted community development programs ranging from 1 – 6 months in duration. The programs bring together the audit tools and community website in tandem with hands-on workshops, training and project support. We provide workshops on a wide range of subjects related to community development and communities can select the components which are most relevant to them. The programs are delivered under the concept of "helping communities help themselves" thereby equiping the participants with the know-how and skills to develop their own community projects.